Managed Services
A RELIABLE EXTENSION OF YOUR TECHNICAL TEAM
Today more than ever, IT deals with more devices and fewer resources. To take some of the repetitive work off your hands, we offer a variety of IT Managed Services, such as backup and remote server monitoring, network monitoring, Cloud manage/monitoring and other, so your team can focus on more important tasks.
WHY EVOLVING SOLUTIONS MANAGED SERVICES?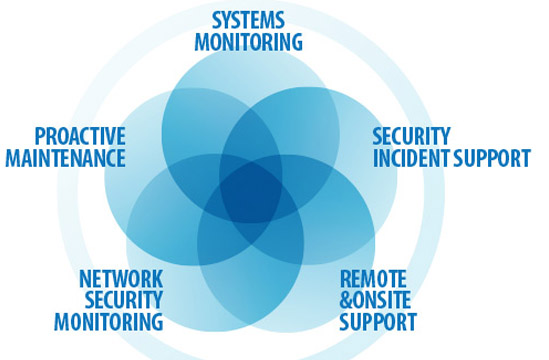 Proactive: Our managed services team are experts at recognizing the early warning signs for potential disturbances and vulnerabilities to save you from future downtime.
Expertise: For many companies it's difficult to introduce new technologies without hiring resources to manage those. We have the resources at your disposal and our team is highly credentialed on the solutions we offer.
Cost Savings: We help you save money on hardware and software infrastructure, maintenance, and internal resource costs that can add up quickly.
MANAGED BACKUPS
Daily monitoring and management of the data backup process:
Backup to and from various target locations (tape, VTL, cloud gateway and direct to cloud)
Manage tape movement and retention
Produce daily backup success reports
Assist with data restores as requested
Enhance data backup and recovery processes
Handle capacity planning and trend analysis
REMOTE SERVER MONITORING
Offsite automated server monitoring and custom event notifications:
Customer alert system in case of issues, including solutions to fix
Notifications via email or SMS
Customizable escalation plans for each event
Uses a combination of our developed toolset and third party tools
Centralized management of multiple servers from a single system
Extensive set of infrastructure monitors available, including performance monitoring
Easily extendable framework allows additional monitors
MANAGED AVAILABILITY
Active management of high availability solution:
Typically configured between sites and/or to cloud for recoverability
Includes data center hardware or logical replication
May require active management to ensure data synchronization
Yearly practice switchover, including required planning and coordination
Assistance with system recovery during unplanned events
Can be combined with other IT managed services
ENGINEERING SERVICES
Advanced Level 2 incident response or proactive planning assistance:
Separates less common tasks with inconsistent durations
Defined under a general IT managed services contract or billed per incident
Includes data center health checks and assessments
Handles capacity planning and trend analysis
Initiated by customer through a ticket or as part of a larger project
Includes problem resolution and performance bottleneck troubleshooting
Example of managed services: OS upgrades, patches, expanding resources, installing new software, enabling new services, implementing new procedures, product and procedure testing
LEVEL 1 SERVICE DESK
24/7 call center and ticketing for user initiated incidents:
Level 1 initial call support
Fast live support – typically less than 30 second wait
Scripted call and ticket responses
Remediation steps available
Defined escalation plans by category
LEVEL 2 REMOTE ADMIN
Response to incidents initiated by our monitoring tools or proactive administrative tasks:
May include security administration or managing system jobs and utilities
Deals with user initiated incidents through ticketing system
Supports preliminary problem analysis
Handles system or environmental improvements